Anuga FoodTec 2015
From encapsulation of active ingredients to green dairy
Quality is of particular importance in the foodstuffs industry. These days, consumers do not only demand an impeccable product but also responsible manufacturing and a conscientious handling of natural resources. With the EU project SUSMILK, Fraunhofer UMSICHT is presenting options for saving water and energy in the dairy industry as well as a high pressure process for generating particles, the so-called PGSS® process, at the Anuga FoodTec, March 24-27, in Cologne, Germany. The Institute's researchers are looking forward to a lively discussion in Hall 05.1, Booth B045/C048.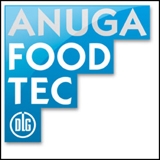 EU Project SUSMILK ­ "Green Dairy"
Milk, quark and cheese are part of the daily food intake. How energy, water and carbon dioxide emissions can be saved in the production of such foodstuffs is what the EU Project SUSMILK illustrates. Under the leadership of Fraunhofer UMSICHT, 212 project partners are developing components that contribute to the sustainable processing of milk and a redesign of the dairy industry via their use in existing dairy infrastructures. The processing of the milk requires different sources of heating and cooling. A core idea of the research consortium is the substitution of steam with hot water which is generated by means of renewable energies or internal sources. The supply of heat and cold is intended to be ensured via integrated concepts, taking into consideration the coupling of power and heat, heat pumps, solar collectors, adsorption-type refrigeration systems, and energy produced at the respective location, e.g. from utilization of waste. As synergy, in some areas of the treatment process, water can also be saved as a result.
PGSS® process ­ Drying technology and powder technology
The PGSS® (Particles from Gas Saturated Solutions) process is a high pressure process for the generation of particles. Fundamentally, meltable solids can be processed into non-caking powder. With the process, solids and fluids can also be encapsulated by means of supercritical fluids ­ and in such a way that different release profiles are created. The supercritical fluids are utilized as aids for this in order to spray and solidify low-viscosity and high-viscosity substances such as chocolate. Gaseous smelts are homogenized and pulverized by mixing the liquefied individual components with compressed carbon dioxide and subsequently releasing them e.g. via a nozzle. This way, the smelt is torn apart into the smallest of droplets and at the same time cooled, due to physical effects. The finest of powders is generated which - due to its targetedly adjustable size (micrometers), morphology, and composition opens up new applications for the foodstuffs, cosmetics, and pharmaceutical industry.